10/23/06
Filed under:
General
Posted by: Dan @ 7:52 pm
Not long after her second surgery in May, when we realized that the days she had to live would be far less that what we had hoped, Sandy wrote out a list of things she wanted to do. But she made the list and talked about it like it was just her normal list of things to do. She never said anything like "I only have so much time and this is what I want to do." It was just a list, another in a long history of lists — she loved writing things down, putting them on the calendar…. checking them off…
On that last list that she made were things like… celebrating our 10th wedding anniversary on June 22nd… celebrating our 17th year together and our first date on her birthday on July 13th (at the same tavern where we had that first date)… going to one of our favorite places on the Oregon coast with our son for some ocean time… going to the Utah canyon country (another of our favorite places), which she later changed on the list to a slide show of our canyon trips (realizing that a trip there in the summer in her condition wasn't going to happen)… participating in the LiveStrong Challenge in Portland on July 30th… [most of these are recounted on previous blog posts].
She did everything on her list, except for the last one…
The last thing on Sandy's list was to go to a concert by one of our favorite singer / songwriter / musicians — Greg Brown — on October 22, in Winthrop, a town about 120 miles north of our home. Sandy's brother and sister-in-law had gotten tickets for the show months ago.
Over the past 17 years, Greg Brown's songs have woven through our lives and become as close to a soundtrack for our love, life and relationship as any music could. I first heard Greg on "A Prairie Home Companion" radio show in the early 1980's and then saw him perform at a small Seattle coffeehouse in about 1985. When Sandy and I got together in 1989 and she heard his music, she loved it. Sandy and I had seen him perform a couple of times in recent years, as he only gets to the northwest every two or three years.
Sandy didn't live to make it to October 22, but she was at the Greg Brown show in spirit. And her brother and his wife were there. And I was there, knowing if I didn't go she would kick me in the butt and there would be hell to pay. It was difficult to leave home, make the long drive there, anticipating and afraid to hear some our favorite songs by Greg. Fortunately for my emotional state he didn't sing any of "our" songs. Maybe Sandy had a little influence on his list that night, sparing me any more pain than I could deal with. But it was good to see and hear him again… and I could almost feel Sandy's hand in mine, and hearing her say "Enjoy the music… just be here right now… this is perfect… you know I'm with you…"
But the pain was still there. The first song that Greg did last night was this one… sometimes a song just gets it right and it's like it was written for you…
Dream City
by Greg Brown
i'm living in dream city
lost in dreams of you
i'm living in dream city
dreaming is all i do
they're gonna cut off my water
unplug my telephone
if i don't stop my dreaming
i will be out on the street alone
i'm living in dream city
dreaming i'm holding you near
and this is where i'll be
until you give me a ride out of here
it's such a fine city
i'm running down the halls
it's a red wine city
i'm bumping into walls
i'm living in a palace
i go from room to room
close my eyes and see you
i'm just chasing your perfume
i'm living in dream city
and the rent is rising fast
i'm living in dream city
i don't know how long i can last
if you had never hugged me
my feet would still touch the ground
if you had never kissed me
i'd be back in my hometown
____________________________
And though he didn't sing this one last night, here's the lyrics to a Greg Brown song that I always thought could have been about Sandy, and she even agreed. (Like most song lyrics without the music, it's not the same as hearing the song with all the subtlety and emotion, but maybe you'll get the idea if you don't know the song, from his "Milk of the Moon" CD)…
With your measured abandon and your farmer's walk
With your "let's go" smile and your bawdy talk
With your mother's burden and your father's stare
With your pretty dresses and your ragged underwear
Oh you
With your heart-shaped rocks and your rocky heart
With your worn-out shoes and your eagerness to start
With your sudden lust on an old dirt path
With your candle-lit prayers and your lonely bath
Oh you
Now you stand at the station and you look at the sky
And the train rolled in and it went on by
You had packed up your suitcase, you had saved up the fare
And you don't know why, but you're still standing there
With your pledge of allegiance and your ringless hand
With your young woman's terror and your old woman's plan
With your sister's questions and your brother's tears
With your empty womb and the forsaken years
Oh you
With your barroom poems and your Sinatra songs
With your twenty notebooks each five pages long
With your secret hideout made of leaves and mud
With your pocket knife and your roaring blood
Oh you
Well, your children look at you and wonder
'Bout this woman made up of lightning bugs and thunder
And they take in what you can't help but show
With your name that is half yes, half no
With your jealous eye and your wish to do right
With your hungry arms and your sleepless nights
With your joy in the circle and your stories to tell
You walk around jangling the keys to your cell
Oh you
Now it looks like rain and it's all gone gray
And in a while there'll be another sunlit day
And you won't remember the half open door
Or the train that won't even stop there any more
For you
_______________________
Music weaving through our lives… it was one year ago today that Sandy and I were in Palo Alto and went to the incredibly beautiful concert "The Ayre" at Stanford University… and then had a long sleepless night of tears at the hotel… before her first surgery on October 24th, 2005…
She would want the music to keep playing. As she said right up to the end… "Turn it up…"
Good night,
Dan

10/10/06
Filed under:
General
Posted by: Dan @ 9:43 pm
Today is a one year anniversary. October 10.
Sandy had been getting an MRI every six months since 1999 to monitor any change in her brain tumor. For six years, following radiation treatments, there had been no change. Every six months we would drive 200 miles to get her MRI at a Spokane hospital. With a mix of fear and hope, these MRI's almost became routine, but of course the fear and stress of any change was always there. For six years the news was always good — no change.
But on October 10, 2005, our world changed. The MRI showed a dramatic change — the tumor was growing. What we had been told would happen someday, had happened. The radiation had bought time, but the type of tumor Sandy had always came back, and came back worse. Her doctor advised us to go to Stanford for her surgery. Soon after is when we started this blog… a year ago… seems like a lifetime with everything that has happened.
Sandy told me shortly after the MRI that Lance Armstrong's day is 10/2 — October 2, 1996 is when he was diagnosed with cancer — and her day would be 10/10. She also reminded me that 10/14 (04) was the day I got hit by a truck while riding my bike. We joked that early October was a dangerous time, best to stay at home.
So today, to honor this anniversary and keep from crying all day, I left home… drove more than an hour up a dirt road and hiked a few miles (injured leg getting my attention the whole time) to one of our favorite remote places in the mountains — a high route in an area of endless peaks in all directions, beautiful alpine meadows turned golden brown by frost and Larch trees turned into a vibrant golden color by the October cold. It was a perfect fall day and Sandy's spirit was with me everywhere. She loved this place — it was our first overnight hiking trip together in 1989, and we did it at this same magical time of year.Today, from the meadows and the peaks, I played my Native American flute for her… and remembered, feeling our connection to this place.
I returned home at dusk and realized that today, with the anniversary and the trip to the high mountains, would be the perfect day…
As the light softened and the quiet of evening deepened, I scattered Sandy's ashes in the grove of trees that I planted on our land 16 years ago. This is where Sandy wanted her ashes to be — in "Daniel's Woods" as she called them. As I slowly walked the trail through the aspen, pine and fir trees scattering her ashes, tears streaming down my face, I came to one of the Larch trees I had planted, once a seedling and now 20-feet tall. The needles were just starting to turn an intense golden color just like all the subalpine Larch I had seen today high in the mountains… and then I truly understood why today happened the way it did… in the golden October light. The light that Sandy loved so much… and the warm golden light that she will always be…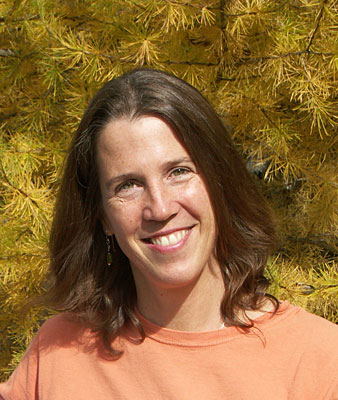 Sandy by a Larch tree in "Daniel's Woods"
on October 16, 2005
Good night,
Dan