08/21/06
Filed under:
General
Posted by: Dan @ 8:30 am
I just want to say thank you to everyone for a wonderful and powerful celebration of Sandy's life. Sandy's spirit was definitely present and smiling and laughing with approval. That was a party she would have loved.
Thank you to all those who made the party happen. I won't name names but you know who you are… the planners, the organizers, the people who took care of a hundred little details, the landscaping crew, the people who supplied chairs and tables and tents, the people who brought food and drink and flowers, the parking crew, the slide show creator, the greeting area crew, the singers and flute player, the clean-up crew, and everyone involved.
And thank you to the 250 or so people who were at the gathering (and those who could not attend but were there in spirit). Your show of love and support for Sandy, myself, our families, and the circle of friends who loved her was profoundly moving. All of your hugs kept me from falling down. We are so blessed to live in this community and be encircled by so much love… celebrating life and death openly and with equal passion. I am honored and humbled to be a part of it. I will remember and cherish that day forever. It was a beautiful experience.
And though it is quiet now, the Garden of Friendship is still glowing with love…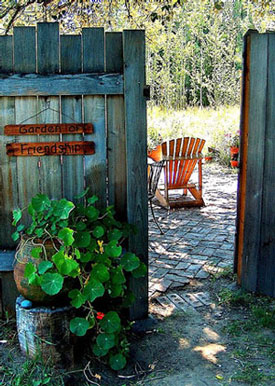 photo by PJ, Sandy's hospice nurse
Thank you again.
With love and gratitude,
Dan
08/10/06
Filed under:
General
Posted by: Dan @ 7:15 am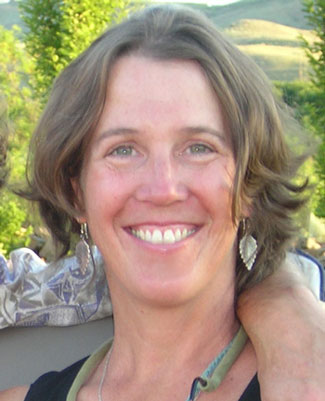 A gathering of family and friends to celebrate Sandy's life
will be held at our home in the Garden of Friendship
on Saturday, August 19 between 2 and 7pm.
Sandy wanted it to be a great party — more like an Irish / Scottish wake — so that's what we're planning. Food, beverages, beer, wine, etc. provided. We will also have some live music. Please bring photos and stories of Sandy to share.
Thank you all for your constant love and support.
Dan

08/07/06
Filed under:
General
Posted by: Dan @ 10:00 pm
Sandy died at 3:30 pm today. She went peacefully and with no pain. I was in bed by her side, holding her hand. Her breath slowed and she gave the softest sigh, and she was gone.
For the past couple of months I had been reading the book "The Secret Garden" to her occassionally. It is one of her favorite books, and I had never read it before. This morning at around 6am I started reading the final chapters to her. Something compelled me to finish the book.About three hours later, we finished — a perfect book for me to read right now. She must have planned it that way — so many messages for us in those final pages. As I read the last words, I looked at her laying in bed next to me. A faint smile passed across her face and then a tear fell from one eye. I knew she had heard every word, and it was her spirit that made me finally finish the book.
There is a line near the end of the book when a little boy discovers the magic of the garden… "I shall live forever… and ever… and ever…"
Sandy shall live forever in all of our hearts.
And she will be gathering our tears to water the garden.
Good night my love… and sweet dreams,
Dan

08/05/06
Filed under:
General
Posted by: Dan @ 5:28 pm
Friends and family have gathered around Sandy to surround her with love as she continues this journey. She has been in bed, now a comfortable hospital bed in our bedroom, since we returned from the LiveStrong Challenge. She is sleeping most of the time, but occasionally awakens and recognizes us, flashing that beautiful smile of hers and saying a word or two, or squeezing our hands tightly. Our son Cameron arrived back home from Hawaii last night at 1 a.m. Sandy awakened at his voice and touch and said, "Oh my God… wow…" and smiled, looking straight at him. She is comfortable and not in pain. And she hears everything we say to her — flashes of her eyes or a smile lets us know she is still with us.
I have moved the small candlelit altar she made a couple weeks ago nearer our bed, with her favorite photos and special objects. The Native American flute music of Carlos Nakai is playing softly. And her hospice nurse also has played her Native American flute for Sandy. Her nurse is an amazing woman and truly loves Sandy, a blessing of a connection for us.
Another piece of music I have been playing is "Migration." Here's a quote from Sandy's website journal about it…
"
I am listening to a C.D. that a friend gave me. It's called
Migration by Peter Kater and R. Carlos Nakai. It is so moving
and when I first listened to it I cried. The music touches my
deepest feelings. The twelve pieces are titled with a short description.
They seem to mirror my journey. Wandering, Initiation, Honoring,
Stating Intention, Surrender, Embracing the Darkness, Lighting
the Flame, Transformation, Quietude, Becoming Human, Walking
the Path, Service.
I feel I have reached a new place in this journey. It is in
some ways more difficult then when I was having radiation treatments
and feeling nauseous and sick all the time. At least I had a
focus and could concentrate on something. Now I'm back at work
and my mind is constantly busy. Recently I felt overwhelmed.
I had avoided thinking about the cancer or writing in my journal.
Maybe it was my way of taking a break. I feel a need to go on
with this journey. To learn from it and not go back to my old
life. It is a spiritual one and I realize I need time for reflection
and having solitude. It is important. Like the music quietude.
The words to describe it are listening, observing, being still."
As I watch her sleep, through my tears and heartbreak I am filled with a peacefulness… a knowing that she is traveling this path in the most perfect way.
Good night,
Dan

08/01/06
Filed under:
General
Posted by: Dan @ 5:57 pm
We arrived home from Portland yesterday (Monday). Though utterly exhausted and spent from the grueling 300-mile journey, she was happy to be home and get into her own bed. She immediately fell asleep and slept through the night. When I could not rouse her during the night to give her medication, I realized she was probably entering a coma-like state. This was confirmed by her nurse this morning when she took her vital signs — blood pressure low and oxygen level very low. She is not in any pain and is sleeping soundly right now. But she has awakened twice and has been very lucid, talkative and hungry. She spent her last energy and willed herself to make it to the LiveStrong Challenge. And she made it. These past weeks of staying awake around the clock was a deliberate act to stay awake and not allow sleep to take ahold before she made it to Portland. Now that we're back home, she is letting go and allowing the journey to continue.
The LiveStrong Challenge day on Sunday is beyond my ability to completely convey in words. Our friends and family and anyone else who saw her there can add to my words. I know I will leave moments out. There were so many. But it was one of the most incredible days of our lives. We arrived at the event site the evening before, parked in a special spot reserved for us right near the start / finish line (thanks to Mary L who had contacted the event organizers ahead of time with Sandy's story) and our entire team gathered. Team members and dear friends Don and Deb provided wonderful food and wine. It was a grand gathering. You could see Sandy's energy and spirit lighting up by the minute.
The next morning we were up at 5am getting ready. Sandy was not able to walk without a lot of assistance but she was revved up and anxious for the day ahead. Around 6am, Jake (our event contact person) showed up with a large poster of the Lance Armstrong Foundation manifesto — signed by Lance. Sandy and I were thrilled. But that was just the beginning. A short time later we were directed into a VIP area a short distance away near a large motorhome. Sandy's brother Eric, friend Mary and myself pushed her wheelchair to this area and waited. After awhile, Lance Armstrong came out of the bus, wearing his cycling jersey and shorts - ready for the ride - talked to a few people nearby and then came over to us. What an unbelievable experience to meet, shake the hand and talk with the man who has inspired us for so long. We talked with him for a few minutes — Sandy sharing the short version of her story and how we had sat there sobbing as we watched him win his first tour in 1999 just after Sandy was diagnosed with a brain tumor, and how Lance pounding those pedals up the mountains had been so inspiring for so long. Lance stopped her and said, "No, it's people like you who inspire me." Among the other things Sandy said to him was "Spend time with your kids." Lance's face lighted up at that and he smiled wide and said "Don't worry. I am." Sandy told him to have a good ride, we shook hands, he kissed her cheek and headed for the starting line to give a speech to the hundreds of cyclists and walkers and runners gathered there.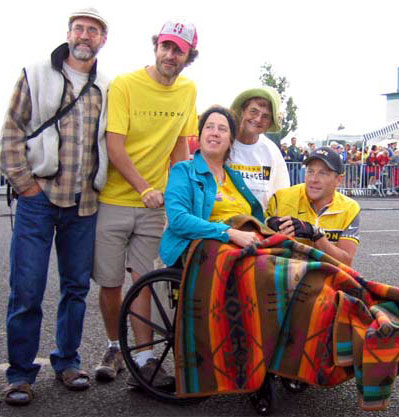 Sandy's brother Eric, me (Dan), Sandy, friend Mary and Lance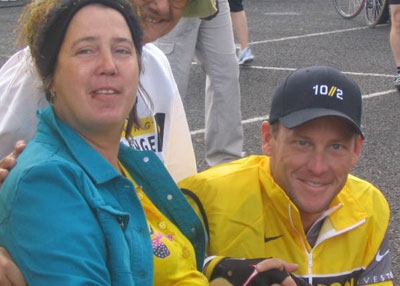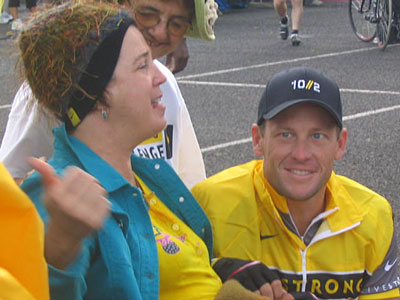 They let us be right next to the podium while Lance and others spoke. A short time later, another big moment… after all the cyclists started (including our teammates Eric, Don, Luke, Barb, Chris and Robin), Sandy and I and the rest of our walking team were directed to the starting line to lead the walkers and runners out. What a moment to be heading out in front of hundreds of cheering people with a police motorcycle escort. We shared turns pushing Sandy in the wheelchair. Before the walk began, Sandy came up with the idea to get up out her wheelchair and walk 16 steps in honor of our 16 team members, plus one for Bob, Patty's soulmate, who died 3 years ago… and as we came toward the finish line we stopped and I helped her stand up and with some assistance she walked those 17 steps and quite few more — the huge crowd gathered at the line cheering her on and the announcer in tears. It was unbelievable. The moment was filmed by local televsion crew who interviewed us later. And that moment was the main highlight in the TV news about the event. We haven't seen it yet, but have heard from many who have.
A quote from an email I just got from one of the organizers at LAF — "One of the most moving and memorable moments of the entire weekend, and quite honestly the past 6 years that I have been involved with LAF events, took place at the finish line of the 5K walk. Sandra Beardsley crossed the finish line with the determination, grace and fighting spirit that has been with her during her 7 year battle with a brain tumor. Sandy and her family were determined that she would participate in the LIVESTRONG Challenge, and went against their doctor's and hospice orders and her team "Friends of
Sandy" pushed her wheel chair on the 5K walk course, and then she walked the last steps, with the support of her husband, and friends, across the finish line."
Other moments happened at the post-ride party where she was interviewed in front of hundreds, sharing her story. Many people, some with her same type of brain tumor, came up and talked with her during the day, telling her how inspiring she was. Also, in true Sandy fashion of worrying about everyone else, she convinced me to go to the prostate cancer screening bus and get tested. I did. Friends of Sandy Team members and anyone else there, feel free to share any other thoughts and moments of the trip in the comments section.
Again, I want to thank everyone on the team for being there and helping us raise more than $10,000 for the Lance Armstrong Foundation — Eric, Pat, Patty, Mary, Barb, Don, Deb, Susie, Leslie, Luke, Chris, Robin, Megan, Caryn. And a huge thank you to all those who made the long journey to Portland possible. In particular, Dr. Batson and his RV — you're a saint of a man. And also our bus mates - Patty and Mary. And everyone else who played a part in making this happen, I am forever and profoundly grateful. What an incredibly strong team we have all around us.
For the past seven years Sandy has been depressed and sometimes angry that there would be no "finish line" in her battle with cancer — no guarantee the radiation treatments early on would work, no surgery that could completely remove the brain tumor, no chemotherapy that would take the cancer out of her body, no other treatment available…. but today, when Sandy came out of her coma-like sleep, I told her that she had found her finish line, and what a finish line it was - lined with hundreds of people cheering her on. I can still hear the cowbells ringing. She smiled and said, "Yes, a finish line…" And fell asleep again.
Good night,
Dan