04/14/07
Filed under:
General
Posted by: Dan @ 9:10 pm
Sometimes flowers can inspire… or at least teach.
Last August at the celebration of Sandy's life, our friend Patty gave away hundreds of daffodil and tulip bulbs to be planted in the fall, in memory of Sandy. There were about 60 bulbs left over, but I didn't have a chance to plant them until mid-November. I figured it was too late in the year and none of them would survive. Especially after it snowed a few inches two days after I planted them.
Last week the daffodils I planted started blooming, and not just a few, but apparently all of them. And the tulips are not far behind. I should have known better. Yellow is the color of hope and strength. Sandy made sure those flowers grew. But just a couple of days after the flowers bloomed, there was a change in the weather and it got really cold. I walked out into the garden early that morning — the thermometer read 17-degrees — and I feared what the flowers would look like. Sure enough, they were all laid over on the ground and looked dead. A thick white frost was on everything. The small joy and hope those flowers had given me was gone. I sat there and wept. I should have known better.
I returned home from work in the late afternoon and slowly walked out to the garden, expecting to see the flowers still laying there dead. I couldn't believe my eyes — all the daffodils were upright and glowing yellow in the late-afternoon sun, looking perfect. I went up and looked at every flower — they were fine. The next three or four nights got just as cold. I thought there was no way they could survive night after night of sub-20 temperatures. But they did, of course. And they are still looking beautiful today.
I like to imagine hundreds of these beautiful and tough flowers blooming in the gardens of family and friends right now. All for Sandy… and us. Reminding us to keep bouncing back… to keep living… just like she did.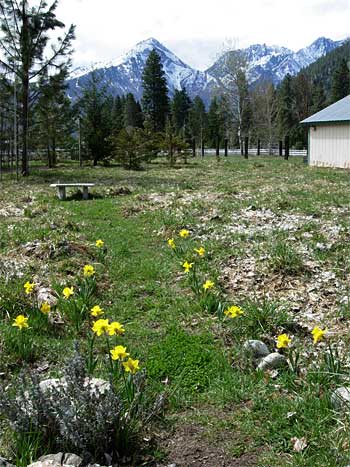 Some of the flowers leading out to Sandy's garden bench.
Sometimes a little yellow is all I need to keep rolling…
Good night,
Dan