09/25/07
This Sunday, September 30, our team "Friends of Sandy" will participate in the LiveStrong Challenge in Portland, Oregon. Some of our team will be walking and running a 5k course and other team members will be riding bikes up to 100 miles, myself included.
We return to honor Sandy and her strength and spirit and live life attitude that brought us all to the challenge last year. It was her finish line… she died one week later on August 7, 2006.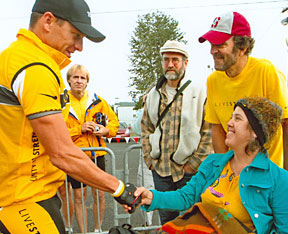 Lance Armstrong meets Sandy


Sandy and I at the LiveStrong Challenge
[from the Lance Armstrong Foundation website]

It's not too late to donate to the Lance Armstrong Foundation to help and empower those affected by cancer. Click the link below to go to our team page and click on any of our team member's names to make a donation…
Make a donation to one of our team members
But you only have until Thursday September 27 at 7am pacific time to donate for this year's challenge. Thanks…
LiveStrong,
Dan
09/03/07
Today was looking like another sad anniversary to mark the time without Sandy in my life…. my 50th birthday.
It took me a awhile to get motivated this morning but I decided just hanging around home wasn't going to honor the day or Sandy. So I decided to go for a 50-mile bike ride… it was the 50 miles to get back home that were the tough ones. I hadn't ridden a century, 100 miles, since before I got hit on my bike in 2004. It took me 7-1/2 hours of riding to do it, instead of my old usual five to six hours. But I survived. I'm in a huge amount of pain right now, whole body feels hammered especially my injured knee is on fire, and I'll be paying dearly for it for the next few days, but it was worth it. Isn't there an old saying that you should be able to ride twice your age? Hope so.
It's not the hitting 50 that has me sad (and sore!). Sandy and I always used to say that 50 is hardly old, and you should be happy to make it there, and why do people make such a big deal of it anyway The hardest part is not receiving one of her always sweet and special birthday cards. But then again, maybe I did…
Early this morning, just as the sun was coming up over the ridge, I took the two dogs for their usual walk down to the river. And there, floating on a quiet and calm part of the river, was a large flock of Canadian Geese. In the early light they looked especially beautiful just floating peacefully on the water, not even bothered by the dogs. It was an unusually large flock to be in such a small area on the water I thought, so something made me count them… 50, exactly… and a Raven watching the beautiful scene from a nearby tree… perfect.
Good night,
Dan