07/10/06
Filed under:
General
Posted by: Dan @ 5:53 pm
Have Been Greatly Exaggerated." –Sandy Beardsley (and Mark Twain)
Since finding out the results of Sandy's MRI on June 30 — and realizing that there is nothing more that doctors and medical science can do for her besides lessening symptoms for as long as possible — we have been reeling between emotional highs and intense lows needless to say. We have had a lot of family and friends visiting the past week. And seeing everyone and all that love and support has been great - a real uplift to Sandy - though at times exhausting. She is feeling a bit better now that she has been off the chemo for over a week. She has more energy, though tires easily, and has a good appetite. She is still moving slowly, usually with the aid of a cane or hiking poles. Her left side deficits - weakness, lack of total muscle control, peripheral vision loss - are still present but lessened since she has been taking the Decadron steroid to alleviate brain swelling. On Thursday, and again today, we met with Hospice nurses. They will be available to assist Sandy and I for the duration of this journey. We are still hoping for a miracle, but also facing reality.
And we are also doing our best to continue to live life and have as much fun as possible…. such as on Saturday night when we joined at least 20 of our friends and family for a beautiful summer evening of food, wine, music, and a bit of dancing outside at a local winery (St. Laurent - a wonderful place). One of our favorite musicians - Kevin Jones Band - was performing. Sandy and I had a great time and she was looking so beautiful and radiant that the bad news from a week ago seemed a long ways away for a little while.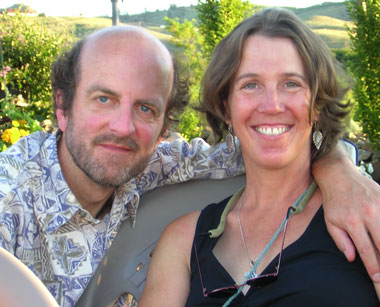 We are also looking forward to the LiveStrong Event in Portland on July 30. The "Friends of Sandy" team now numbers 13 and growing. Sandy and other friends are going to do the 5k walk, while I and others will be riding bikes anywhere from 40 to 100 miles. If you can, please make a donation to our team and the Lance Armstrong Foundation at the link to the left. When you get to the website, donate on Sandy's page or click "My Team Page" to donate to other team members.
And of course we are still enjoying visitors to our home - though we are trying to pace ourselves and occasionally put out the "Do Not Disturb" sign. If you live far away, please call to see if Sandy is up for a visit. And the Gnome is usually hanging out in the garden and likes a little company…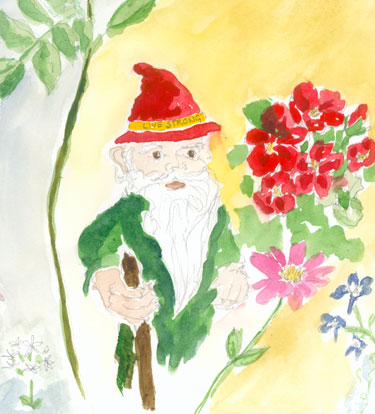 Illustration by Heather Murphy
We would also like to thank everyone for the huge outpouring of love and support. And also thanks for the gifts of food, wine, deserts, flowers, music, cards, emails, fireworks parade, dancing and of course the howling at the moon circle. Your love encircles us and strengthens us. We are so blessed.
Good night,
Dan

Leave a Reply