06/23/07
Filed under:
General
Posted by: Dan @ 7:40 am
Yesterday, June 22, would have been our 11th wedding anniversary (though Sandy and I always celebrated our real anniversary as well, the day of our first date and her birthday - July 13th). So to honor the day yesterday, I had my master gardener friend Barb help me pick out a large quantity of flowers to plant in our garden. It will be really beautiful when I get them planted today. And it will help me remember how blessed I am to have had what we had…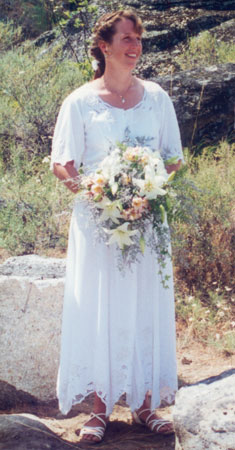 Sandy on our wedding day, June 22, 1996
This is part of a letter I wrote to Sandy for our wedding vows…
"…I have found in you, Sandra, an unexpected teacher (and not the 3rd grade kind). A teacher of what is important in this life. There is an unstoppable compassion in you for other people and, of course, other creatures as well. You put care and concern for others ahead of your own needs, and you do that just because it has to be done, not for praise or reward. You are my rock of love, kindness and powerful, heartfelt emotions. When my Irish cynicism starts getting the better of me, you're right there with that incredible Scottish smile to set me straight again.
I believe it's true that to have lived a good life, you must strive to make life better for someone else. I believe that both of us are doing that for each other. And that is part of what makes our love so great.
You and I have shared so much the past seven years, and it has all seemed so easy and right, that I try not to take for granted my good fortune. And that's what today is all about… to celebrate our love with family and friends, who also help make our good fortune possible. And I look forward to much more with you Sandra… All my love…"
Leave a Reply